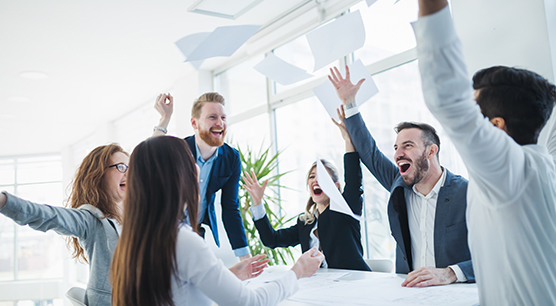 13 Jun

Happy Employees Are Productive Employees
Having happy and efficient employees is key to having a successful business.
With the help of MyOffice, a single-source provider, and Biozenic, a biophilic design company, you can have your business operating at top speed and have your employees feeling their best.
 Find out how below: 
Biozenic specializes in Biophilic design, a method of designing the places in which we live and work in such a way that satisfies our deep and fundamental need to be connected with nature. This helps to become more and more essential to capture workers' full potential. Harvard University entomologist E. O. Wilson proved in 1980 that humans have a need to connect to the natural world. Followed by a study of 7,600 workers in 16 countries, it has been found that those who worked in spaces with green, or other natural features, reported a 15% higher level of well-being, are 6% more productive, and 15% more creative overall. This same report found that 33% of these workers said it would affect their decision to work somewhere!
Not only do plants clean the air, they make office spaces look nicer, create energy efficiency, absorb sound, enhance spirituality, and decrease carbon emissions in buildings!
MyOffice helps increase your company's productivity by streamlining its operations. We can help your employees become more efficient by making your company more efficient. Because MyOffice is a single-source provider, we can go in and renovate your office while you are still operating. We do what's most convenient for you, so that you can do what's most convenient for your business.
With the help of our various services like relocation, sound masking and technology upgrades, MyOffice can have your company operating at full speed in no time.
If you are interested in hearing more about our services or would like to speak with a staff member contact us.
Making changes to your office environment can be difficult, we make it easy….
Click here to read more about MyOffice services.