18 Jun

Creating A Collaborative Workspace with the Help of MyOffice Commercial Relocation Services and Installation in San Diego

5 Elements Needed to Create a Collaborative Workspace That Employees Will Actually Use

Studies show that collaboration in the office can lead to an increase of innovation and productivity. Because of this, companies are shifting from a "me" perspective to a "we" perspective. This means that they are changing their business models to incorporate more teamwork and collaboration. Businesses everywhere are doing this by implementing collaborative areas into their office spaces. However, when many of them try to set up collaborative areas and workstations, they often fall short. Much of this is due to copying a "cool" or "trendy" collaborative space that may have worked for a different company, but wasn't right for their own. Each collaborative area should be unique to the industry, culture and floor plan of your business. Here are five elements that you need to consider when creating a collaborative workspace that your employees will actually use.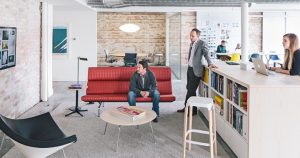 Pick an area with heavy traffic. When creating a collaborative space, you want to navigate employees to the area naturally. Pick somewhere in the office that employees walk by multiple times a day, this can be by the kitchen or on the way to a popular conference room. This is called a "collision area" because employees will collide into one another, sparking the interest to communicate and collaborate.
Make sure the space is comfortable. You want employees to stick around and collaborate, so make sure the space is inviting. DO NOT try to encourage collaboration in a small, stuffy room. Instead, make the space inviting with natural light, plants and open spaces.
Place different forms of seating in the area. Mix up the seating arrangements in the area, so that employees can sit or stand comfortably. Some employees will come to the area to get a break from sitting at their desk all day, so be sure to have both high and low tables. Make the area as accommodating as possible.
Utilize new tools and technologies. Place projectors, communal laptops, whiteboards and tablets around the area to inspire impromptu meetings and presentations. Encourage employees to use different forms of technology to brainstorm.
Design the space with your company culture in mind. At the end of the day, your company will require a space that is unique to your employees and the culture. There is no one particular way to make a space collaborative for your office, so play around with different setups and ask your employees for feedback!
If you are interested in hearing more about our services or would like to speak with a staff member contact us.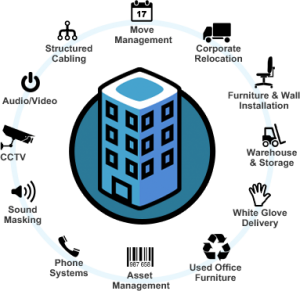 Making changes to your office environment can be difficult, we make it easy….
Click here to read more about MyOffice services.