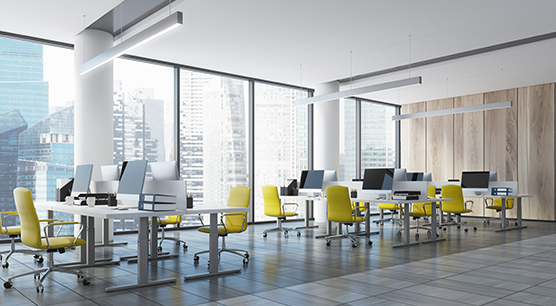 21 Feb

How To Utilize Office Space in San Diego With MyOffice Relocation Services
Utilizing office space can be challenging and overwhelming. With businesses trying to save space and money wherever possible, individual space is shrinking in the workplace.
According to the Knoll Workplace Executive Survey, companies are looking to transition to open offices and unassigned workplaces in the near future (see figure left). This change in the workplace is due to many factors including rising real estate prices and increasing mobility within society. Laptops and cell phones make people very mobile within their lives.
However, many industries still need large computers, private spaces and conference rooms. According to the 2013 Workplace Study by Gensler, productive workplaces balance both individual and collaborative work. In order to accomplish this, companies can mix various office space trends.  Here are a few trends that can work well together:
Private Offices: The traditional office with a closed door is becoming less prevalent in the workplace. Instead, companies offer unassigned, private offices for employees to use when they need a quiet space.
Long Desks and Tables: Using long, undivided desks for employees can create a collaborative environment for working. When employees are sitting together in an open area, they are more prone to communicating and working together.
Standing Desks and Tables: Placing standing desks or tables around the office give employees a reprieve from sitting all day.
Collaborative Spaces: These spaces are typically rooms around the office that are designed to fit small groups of employees. They can be anything from rooms to designated areas to mini cafes. Collaborative spaces encourage group work and provide a private space for people to communicate.
Cubicles: There are many different types of cubicles that can work for various types of companies. Cubicles can offer privacy for employees to focus on their work. Some cubicles are built with low partitions, so employees can still communicate when needed.
How can we help?  MyOffice works with companies to evaluate their current office layout and can then assist with reorganization into a more effective use of your space.  Reach out today if you would like a free evaluation.
MyOffice provides world-class services and equipment to clients across the country in almost every industry.
Click here to read more about MyOffice services.