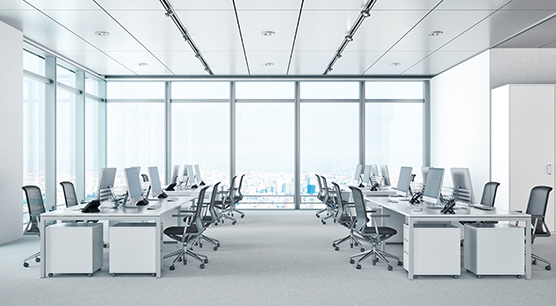 17 Mar

Install New Office Seating With the Help of MyOffice Commercial Relocation Services
New research suggests that sitting at work all day is detrimental to health.
However, is standing all day any better? Below are pros and cons to each and a look at the best alternative: a sit-to-stand desk.
Sitting Desks: Pros & Cons
Pros: 
• Sitting at a desk is comfortable
• Most people are used to sitting at a desk all day and don't want to change routine
• It is easy to concentrate sitting down because people are accustomed to it
Cons:
• According to Jason McCann, "Research has shown that prolonged, all-day sitting can lead to dramatically increased risks of heart disease, Type 2 diabetes, obesity, cancer and other chronic health conditions."
• Martha Grogan, a Cardiologist at Mayo Clinic, said, "For people who sit most of the day, their risk of heart attack is about the same as smoking."
Standing Desks: Pros & Cons
Pros:
• Your body burns more calories standing
• A Journal Diabetologia study found that standing can reduce the risk of developing Type 2 Diabetes.
• According to Bustle.com "A European Heart Journal study found that people who stand throughout the day have a lower BMI and waist circumference"
Cons:
• Prolonged standing can lead to leg, ankle and back pain
• May impair ability to concentrate
• According to a U.S. News Health report, standing "can also boost your risk for carotid arteries, varicose veins, and other cardiovascular problems."
THE SOLUTION: A SIT-TO-STAND DESK
The best solution is to mix standing and sitting throughout the day. According to UCLA health, "The human body responds best to a balance between static and dynamic activity, between activity and recovery, between sitting and standing." This means that alternating between sitting and standing throughout the day is the healthiest option for your body. Dr. James Levine, author of Get Up! Why Your Chair Is Killing You and What You Can Do About It, suggests that people stand for a total of two-four hours a day at work to avoid the harmful repercussions of prolonged sitting or standing.
HAVE QUESTIONS ON WHERE TO GET MORE INFORMATION? SEND US AN EMAIL ATSALESINFO@4MYOFFICE.COM OR CONTACT YOUR ACCOUNT REPRESENTATIVE TODAY.
MyOffice provides world-class services and equipment to clients across the country in almost every industry.
Click here to read more about MyOffice services.