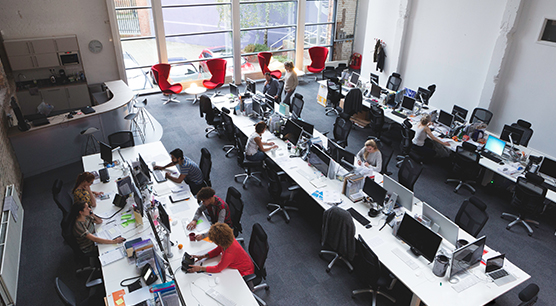 28 Aug

MyOffice Can Install Commercial Sound Masking Systems Into Your San Diego Office Today!
Is Your Office Space Too Noisy? MyOffice Has A Solution!
Office spaces are becoming more open everyday, which can lead to great collaboration, but can also lead to noisy, distracting work environments. If you find yourself becoming distracted by conversations overhead in the office, we can help with a technology called Sound Masking. 
Sound Masking is electronically generated and indiscernible, ambient sound that plays through speakers. This technology is installed into office spaces to reduce distracting noise. This technology literally masks distracting noises by matching the sound level of speech and other noises typical to an office.
When sound-masking is added to an open office space, you are essentially tripling the distance between co-workers. This is crucial in reducing conversational distractions and increasing worker concentration, productivity, accuracy and satisfaction. It can also add an element of privacy in an open workspace.
Benefits of Sound Masking
After doing case studies in open office plans, closed offices, meeting rooms, call centers, and more- here are the results we compiled:
1. Focus improved: 40%
2. Distractions reduced: 51%
3. Stress reduced: 27%
4. Error rates reduced: 10%
5. Productivity increased: 10-40%
If you are interested in hearing more about our services or would like to speak with a staff member contact us.
Making changes to your office environment can be difficult, we make it easy….
Click here to read more about MyOffice services.