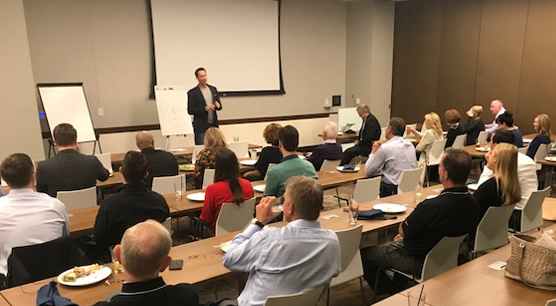 29 Jan

MyOffice Leadership Development Series: Living the Ultimate Life
MyOffice had an awesome start to our Leadership Development Series kick-off event!
We had the pleasure of having Jim Bunch, entrepreneur and founder of the "The Ultimate Game of Life," as our first speaker. We will be doing three of these events per year, so keep an eye out for the next one in Spring! Here are some key highlights from Jim's talk:
Jim shared his insights about living The Ultimate Life and how to get there. Jim developed his program, How To Live Your Ultimate Life, by working on the 9 Environments of You. As he shared, everything in your life is part of an environment and every environment feeds off the other. The key to gaining traction in each environment is to hone in on your memetics. Where did they come from? Were they inherited from your family, culture, or friends? Are they accurate and helping you achieve your goals? Or are they holding you back in some way? See below for diagrams of the 9 environments you need to nurture in order to live your ultimate life and grow your ultimate business.
At MyOffice, we strive to surround our employees and customers with abundant amounts of positive energy, like Jim Bunch. No matter the job, MyOffice will always be there with a positive attitude and will to succeed. A special thanks to Jim for taking the time to share his knowledge and help us expand our memetics and positive environments to encompass every aspect of life! To learn more about how to achieve the "Ultimate Life" or contact Jim, visit his website here.
MyOffice will be hosting our next speaker in the spring! If you are interested in hearing more or would get on the invite list, please contact us here.
If you are interested in hearing more about our services or would like to speak with a staff member contact us.
Making changes to your office environment can be difficult, we make it easy….
Click here to read more about MyOffice services.