San Diego Structured Cabling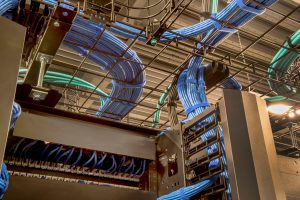 As voice and data converge in today's high-speed world, networks and servers must respond to demanding levels of performance without degradation or disruption. If they don't, you can't connect. And without proper installation, you're faced with a constant source of frustration. MyOffice provides San Diego structured cabling services to meet and exceed the needs of your network now and into the future.
MyOffice provides industry compliant (ANSI/TIA/EIA) network cabling design and installation expertise for a wide range of corporate clients across the country. Our in-house team of experienced professionals design, install, test and maintain high-speed, state-of-the-art infrastructures to meet your current needs and prepare you for future requirements.
From data centers to workstations, MyOffice can build a robust and reliable cabling solution to get you connected and keep you connected. We're currently install the following technology solutions:
> AMP Netconnect
> Berk-Tek
> Bicsi
> Mohawk
> Ortronics
> Panduit
> Superior Essex
> Chatworth Products, Inc.
Trust MyOffice to assemble a structured cabling plan for your office that offers superior connectivity to your devices and users. Contact us today for a consultation.